New Year's Resolutions for SMEs

5
min read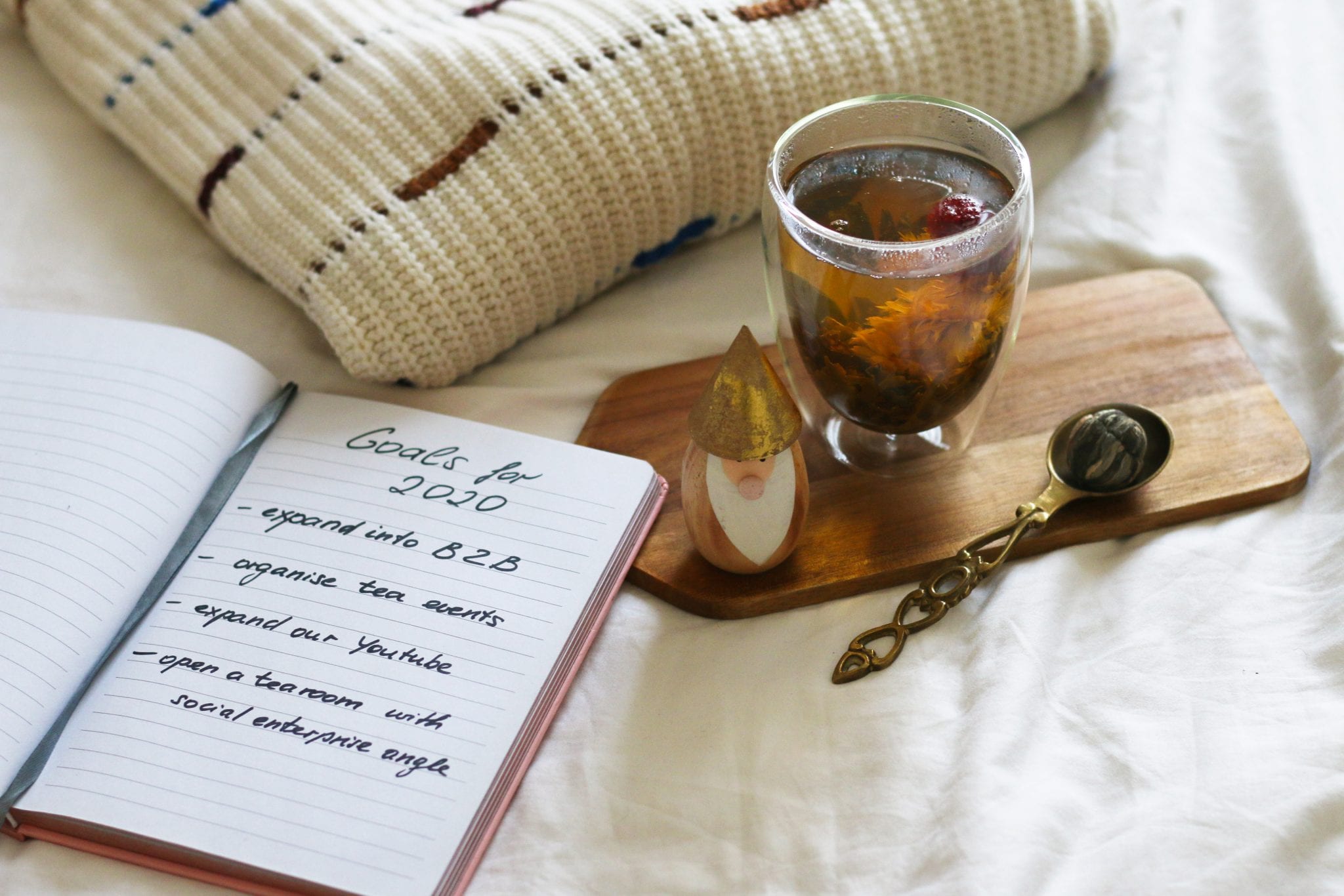 Happy 2020! As we're slowly recovering from our NYE hangovers, it's a good idea to set some new year's resolutions, not just for ourselves, but also for our businesses. My name is Tatjana and I'm the co-founder of teapro.co.uk – an educational tea subscription box that takes you on a discovery journey through the mysterious world of loose-leaf teas. 
I'd love to talk to you about the importance of setting new year's resolutions for your business by demonstrating how we've done it for teapro, as well as giving you some ideas on how to best approach this task for your own business.
What's the Deal with New Year's Resolutions?
Having your own business can be all-consuming. Especially, if you're just starting up, your business is like a baby. It needs constant attention and support – all of which you might be handling on your own or with a very small team. It's very easy to get caught up in the day-to-day routine and loose the big picture. That's where most businesses fail. Rather than growing, you will end up focusing on urgent daily tasks, which over time might cause your business to stagnate and eventually fall apart.
That's why new year is the perfect time to take a fresh look at your business and decide on what main goals you will need to focus on in 2020 to bring your vision closer to reality. New Year is also a great time to re-think the strategy, check whether 
you're still on the right path and course-correct if needed.
Before we can get started with the new year's resolutions, it's important to do a retrospect. Sit down with your team and talk about all the things that went well in 2019, but also make sure to analyse the things that didn't work out. 
At teapro, we only started trading in April of 2019 and we're really proud of everything we've achieved so far. We've managed to set up a website, create a unique brand, develop our products, grow our overall social media following to over 15000, get some press coverage and finish off the year with amazing Christmas sales results. However, we can definitely improve on our email marketing, content creation, time management and many other aspects of our business.
When reviewing your year, make sure to go beyond the obvious, like 
sales targets. Think about the processes you employ, your team's 
performance and time management as well as which marketing 
strategies gave you the best sales conversions.
When it comes to your new year's resolutions, make sure to dream big! This is the time to decide what actions will really drive your business forward – think about the big picture – you can worry about the details later. To give you some inspiration, here are our big goals for 2020:
– improve our day-to-day processes
– grow the educational side of our business
– expand teapro from B2C (selling tea directly to customers) into B2B (selling tea to bars, restaurants, hotels, boutique shops etc.)
– incorporating tea ceremonies and experiences into our offer
– set up a tea room with a social enterprise angle, by employing homeless people and creating a scheme to get them off the streets.
The idea of this exercise is for you and your team to get excited about 2020 and look forward to all the things you can achieve in the year ahead!
When it's bigger than YOU
The most powerful reason to get excited about the progress of your business is to incorporate goals that don't only benefit you, but will also bring a greater good to our society. For us at teapro, it's things like mental health, environment and homelessness.
Mental health is important to us and we want to do our bit in creating a balanced and happy society. Currently, we're releasing new audio chapters of Tao Te Ching by Lao Tzu on our teapro YouTube channel each week. Tao Te Ching is an amazing book full of ancient wisdom. Reading it has enriched our lives and we want to share this gift with the world.
When it comes to environment, we want to make sustainable choices, like selecting organic teas, reducing plastic waste by going loose-leaf, as well as striving to eliminate plastic from our packaging. Lastly, we want to make change in people's lives by tackling homelessness. We're currently working on a concept of a tea room with a social enterprise angle, by employing homeless people and creating a scheme to get them off the streets. The concept is still in its early stages, but we're excited to develop it further this year with the aim to turn it into a reality towards the end of 2020.
If you want to give your new year's resolutions a better structure, we highly recommend using the VMOST model. It will take you a few hours to write it all out, but it will absolutely be worth your time! Successfully Sticking to your New Year's Resolutions
.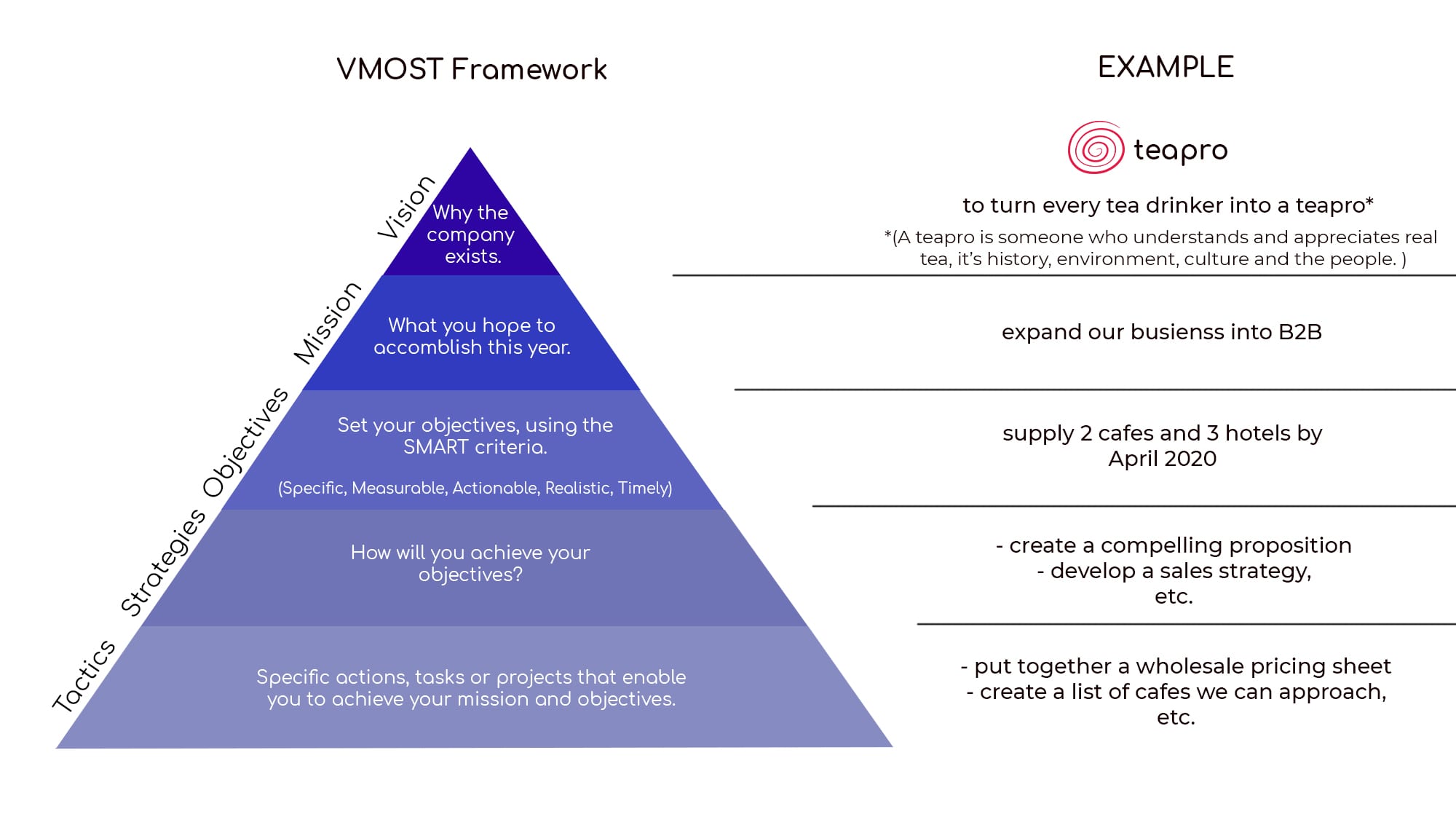 Successfully Sticking to your New Year's Resolutions
At teapro HQ, we have our VMOST printed out and stuck on a wall in a visible place. We also have a great process in place, where we plan our sprints each week and make sure to do daily standups as well as weekly retrospect, to see how we're getting on with our tasks and whether we're still on track.
If you feel like your excitement starts vanishing, it might be a great idea to create an inspirational vision board for your business. Maybe you're dreaming of a bigger office, higher turnover or want to see yourself on the cover of Forbes Magazine? Visualizing these dreams or a board and placing it somewhere visible is a great technique used by lots of successful businesses. So what are your goals for 2020?
Tatjana, Co-Founder of  Teapro
Let's stay in touch
All our latest business knowledge delivered to your inbox a few times a month