Our Features
Search Engine; Two Types of Posts; Two News Feeds; Connections; Messages; Company Profile;
Search Engine 
The main goal of this crucial feature is to help entrepreneurs find other businesses to work with quickly and easily. We are connecting locally and globally, throughout every sector and industry as every business is connected and does business with several industries.
In order to give you search results that fit your business needs we have enabled you to include various filter criteria. The filters are listed and explained below.
Location
When you want to target a specific area/city/country, the simple location filter can help you narrow the results with businesses in that location. This comes particularly handy when searching for suppliers whether you're on a quest to find better quality materials or reduce transportation costs.
Another creative way to use the location filter is when researching expansion opportunities. Find what firms you can potentially work with even before drawing up your business growth plans. You can never have too much information 😉
Industry and Sectors
Businesses differ by what they do. Therefore it is very handy to distinguish them by industry or sector. Search for businesses through various industries depending on your business needs. Your research can be triggered by the need to introduce a new product, expand your operation or even just enhance your current value offerings. 
Often some industries overlap and you will need to work together with firms from a different industry or sector with the objective to ensure you're giving the best value to your clients.
Number of Employees
Offering product and services based on the number of employees? Now it is possible to find companies around this information. This filter is valuable when your business focuses on the workforce whether from equipment perspective or software and telecom service all the way to healthcare packages.
Specific Keyword
By adding a specific keyword you can narrow your search even more or simply search for all businesses related to the keyword. This is extremely helpful when searching for a clearly defined product or service and applies particularly well to niche business offerings.
By default in the explore tab you will find the businesses that joined Enterprise League most recently, in your industry, country and city. By default sorting on search results is shown by most recently active firms.
Be creative, use these opportunities to find ways to innovate and grow your business.
Posts
To make engagement between companies easier, we've created posts. The concept of posts works like this:
– You decide you want to share something with the business community, it can be a new announcement such as a product or service, or anything you deem of value and worth sharing.
– You also have the option to include links, pdfs or images.
An important feature of posts is that there are two types of posts: Normal and Tender posts. So according to your goal with the post you can option for the more fitting post type.
Normal Posts
Normal posts are meant for anything business related you might want to share, besides tenders. Whether it's new information about your products or a standard update of your business happenings, the possibilities to present your firm's doing to the business community are limitless.
Tender Posts
Tender posts are a type of post that focuses on enabling you to publish business tender (otherwise known as prospective business deals). This is a quick way to state your requirements and through the search engine other companies can find your tender and contact you immediately for a potential collaboration. The search engine for tender posts works exactly the same as with companies. You can apply as many of the available filter criteria and shortlist tender posts only of interest to your present search.
E.g. If you're in need of a new supplier due to expanding your business, you can search for supplying companies in your desired location. This can help your expansion plans be executed quicker and in a more efficient and reliable way.
Note* Tender Posts are included in the Public Feed tab
Two Feeds
The different types of posts are shown and can be found in two feed tabs, Connections News and Public Feed. The difference between the two feeds is the privacy preference of the posts included in each.
Connections News
In your News Feed tab you will find posts that have their privacy setting set to connections only, meaning only the companies you are connected with can see what you have published.
So if you want to be up-to-date with your connections, check their posts on your News Feed. You can comment, share and like their posts.
Public Feed
In the Public Feed tab you will find posts that have their privacy settings set to public, meaning every company on the platform can see those posts. This feature enables active communication between firms about business opportunities and valuable information worth spreading.
There isn't a better way to find new leads than spotting them on the public feed. The search filters can be applied to all public posts to facilitate your purposeful search through them.
There you can read and participate in innovation talks, opinions and business opportunities quickly and easily. Your business vision will continuously change and get updated thanks to this feed.
Note* public feed includes tender posts.
Connections
Your connections on Enterprise League include the firms you are connected with. To build a connection first you need to search for one (through the search engine). Once you have found a company that you think it's a good match you can send them a connection request with a personalised message explaining the purpose why you want to connect with them.
Privacy of your connections can be edited. Your connection is private by default, meaning other companies cannot see your connections. Or you can option to make your connection public, in which case other companies can see the firm you are connected with.
The purpose of having your connection public:
– To enable some of your connections to ask for a reference for another of your connections.
– To enables trustworthy feedback about firms to be provided.
Therefore you can choose to strategically display your connections.
Messages
Messaging on Enterprise League lets you instantly reach the businesses you want to work with. You can send images, attachments and links to enhance your messages.
E.g. Have you found a potential client and want to ask them more information or give them a heads up about your potential collaboration? In this case send them a personalised message as part of your connection request.
Company Profile
Complete your company's profile with straightforward information in order to help other businesses easily understand what you are all about.
Write your company's name, location, industry, sector and number of employees. These are important as the search engine takes into consideration these variables when sorting companies in search results.
The company profile page is divided into three tabs: About, Recent Activity and More.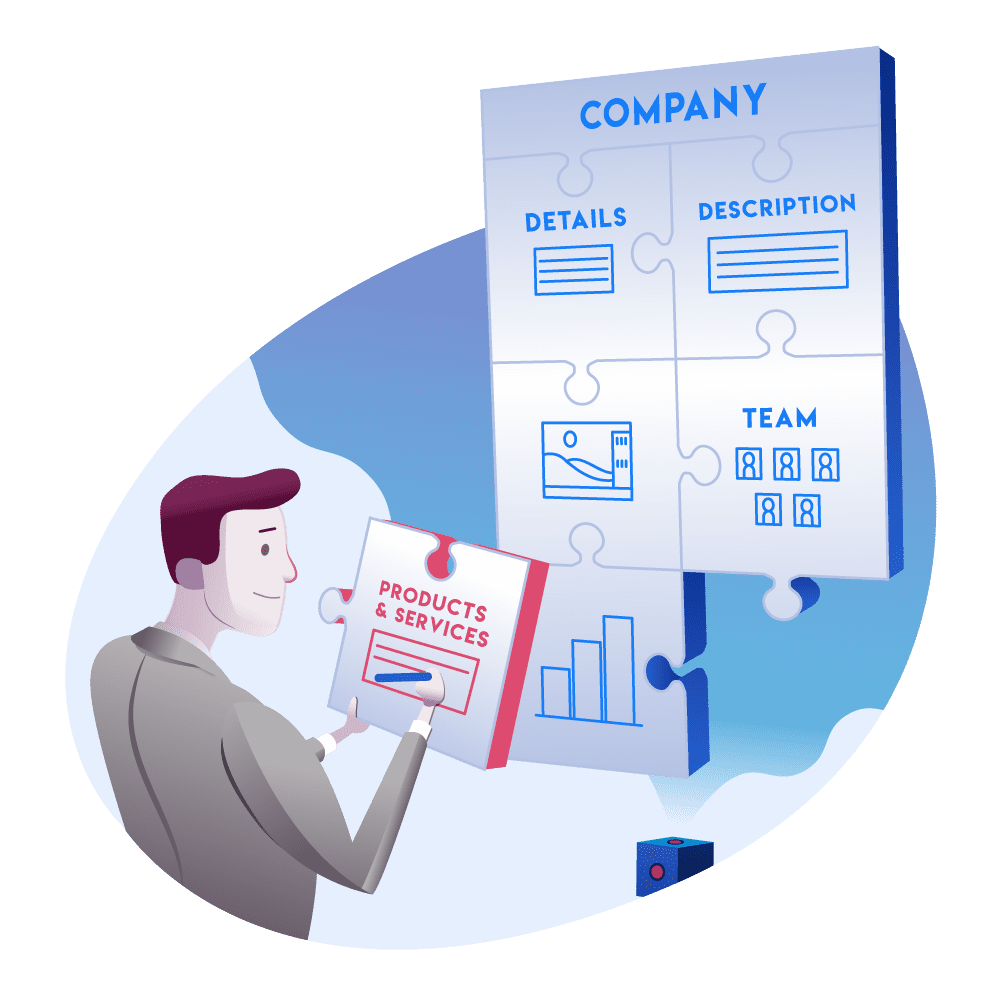 About tab
The About tab contains information that explains your company in more detail. This information is organised in three sections: Who you are; What you offer and What are you looking for. Here is more information about the details each section should contain:
Who you are – Here you should add more information about

what your company does

.
What you offer – Here you should

add all the value offerings your company provides

, such as products and services. The more details you include for each, the better chance you have to find a potential client. Note: the first four products/services listed have to option to include an image that shows the product or better explains the service. 
What are you looking for – Here you should include details about

what your business is searching for at the moment

. The goal of this section is to help other businesses see what potential opportunities of collaboration with you they have. This can include a need for a new supplier, new technology or clients.
Recent Activity Tab
The Recent Activity page includes all the posts you have published. Here you can choose to pin important posts or create a new post. This page plays the role of a news page for your company, use it to highlight important announcements or anything you think it's important.
More Tab
The More page is the place where you can include even more details about your company. Here you can include information such as: Company Mission, Licences and Certificated and Additional Documents.
Mission: take the chance to briefly explain your company's mission here.
Licenses and certificates gives you the opportunity to showcase your company's accreditations and quality credibility. This is particularly important for some industries/sectors which offer certain products that need to comply with some quality standards. However accreditations are also applicable to services, particularly professional services that require accreditation by official/governmental bodies.
Additional Documents section is the place where you have the chance to include some sample documentation that your company uses when doing B2B business. This can usually include sample invoice document, product/service catalogues, price lists, sample NDAs etc. The purpose of this section is to speed up the communication/negotiation process between two firms by providing some information upfront and reducing time spent going back and forth talking about individual aspects separately.